This workshop is the third in a series on the economic impact of information and communication technologies (ICT), organized by the ICTNET and funded by the European Commission. Information on the two previous workshops can be found by clicking here: Parma and London workshops.
The goal of this workshop is to bring together leading researchers on the economics of information and communication technologies (ICT) in order to discuss recent scientific contributions and outstanding policy challenges.
Particular emphasis will be placed on ICT-enabled innovation, productivity and growth. Theoretical, empirical, experimental and policy oriented contributions are welcome.
Topics of Interest:
ICT, productivity and growth at the firm, industry and country level
Knowledge links within and between firms, and relationship to innovation
ICT, knowledge flows and innovation networks
Knowledge, growth and the crisis
Call for Papers (PDF File, 233 KB)
Programme (PDF, 62 KB)
Agenda and presented papers (PDF, 428 KB)

Workshop Picture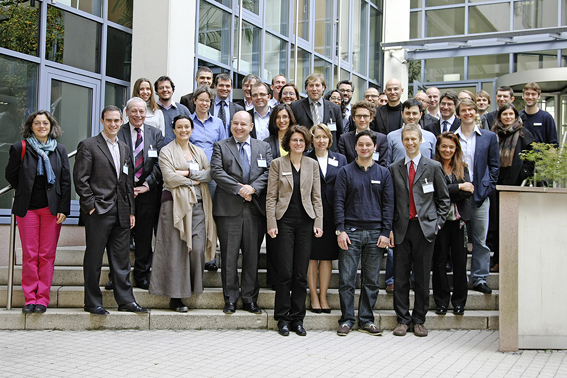 Scientific Committee
Irene Bertschek (ZEW Mannheim, Germany)
Francesco Daveri (University of Parma, Italy
Jonathan Haskel (Imperial College, London, UK)
Vincenzo Spiezia (OECD)
Keynote Speakers
Avi Goldfarb (University of Toronto, Canada)
Marshall Van Alstyne (Boston University, USA)
Johannes Van Biesebroeck (K.U. Leuven, Belgium)
Paper Submissions
Deadline for papers or extended abstracts:
September 10, 2011
Acceptance decision:
September 19, 2011
Please send your paper in PDF format to:ictnet@ict-net.eu
Registration for the workshop
Participants are required to register no later than 25 September 2011. No fee is requested however; if you intend to participate please send an e-mail to ictnet@ict-net.eu
Travel and Accommodation
For participants who present a paper, travel expenses (advance ticket/low cost fare) and accommodation will be covered by the ICTNET Research Network.
All participants will be responsible for arranging their own travel and accommodation.
Hotel close to the ZEW
Official Workshop Language
The official language of this workshop will be English.
Contacts
For further information on this workshop please contact the workshop team via email: ictnet@ict-net.eu
Date
24.10.2011 - 25.10.2011
Event Location
ZEW, L 7,1 D-68161 Mannheim