The objective of the conference is to discuss recent scientific contributions to the economics of information and communication technologies (ICT) and the economics of ICT industries. Theoretical, empirical and policy-oriented contributions are welcome.
Keynote Lectures
Michael Katz (University of California, Berkeley, USA)

Harikesh Nair (Stanford University, USA)
Topics of Interest
Software and Internet Industries – Competition Policy and Regulation of ICT – ICT and Innovation – Telecommunication and New Media – Internet Services – Digital Markets and Intellectual Property Rights – E-Commerce - Standards – ICT, Productivity and Growth – ICT and the Labour Market – Social Media – Online Social Networks – User-generated Content – Cloud Computing – Green IT
Scientific Committee
Avi Goldfarb (University of Toronto, Canada)
Mary O'Mahony (University of Birmingham, UK)
Catherine Tucker (MIT Sloan School of Management, USA)
Tommaso Valletti (Imperial College London, UK)
Joel Waldfogel (University of Minnesota, USA)
Kenneth Wilbur (Duke University, USA)
Irene Bertschek (ZEW und University of Mannheim)
Martin Peitz (University of Mannheim and ZEW)
Florian Stahl (University of Mannheim and ZEW)
Programme
Preliminary Programme (as PDF, 92 KB)
Call for Papers
Download Call for Papers (as PDF file, 85 KB)
Submission
There will be invited and contributed sessions. The deadline for submission of full papers is March 15, 2014. Please submit papers in PDF or MS Word format to: ict-conference@zew.de
Submissions by PhD students are particularly encouraged
The decision on acceptance will be reached no later than April 15, 2014.
Registration Fee
The conference fee is EUR 200.
For participants who present a paper, the conference fee is reduced to EUR 100; travel expenses (economy class) and accommodation will be covered by ZEW. Presenters may be kindly asked to discuss another paper. All participants are requested to register no later than April 30, 2014.
You can register to the conference online.
Conference Picture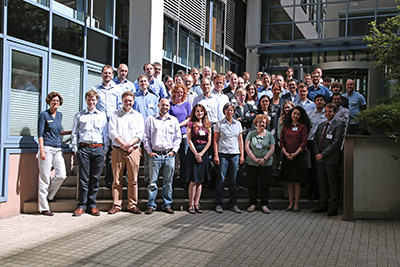 Date
16.06.2014 - 17.06.2014
Event Location
ZEW, L 7,1 D-68161 Mannheim
Zum Seitenanfang springen
Zur Navigation springen
Zum Seiteninhalt springen